TOBY® Awards


The Outstanding Building of the Year (TOBY®) Awards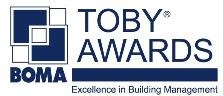 The Outstanding Building of the Year (TOBY®) Award is one of the most prestigious and comprehensive programs of its kind in the commercial real estate industry recognizing quality in buildings and rewarding excellence in building management.
During the competitions, all facets of a building's operations are thoroughly evaluated. Buildings are judged on everything from community involvement and site management to environmental and "green" policies and procedures.
Levels of Competition
The competition consists of three levels. The competition begins at the BOMA local association level, winning entries advance from there to the regional level and, finally, regional winners advance to the international level. The international TOBY Awards will be presented at the BOMA International Conference each year.
Local Due Date
Local Submissions are due by 11/15/2020 for the 2021 cycle.
Log in to begin the process and register your building for entry.
TOBY Categories

Additionally, BOMA has invested in making quality improvements to the TOBY portal and has extended its use to the local BOMA associations with the ability to judge submissions online. These improvements have resulted in ensuring that locals have the tools to streamline the process and uphold the integrity of the program. In order to maintain the quality of the program and continue to make improvements, the fees for 2019 have been increased. This is the first program increase in over 10 years.

Fees are as follows:
Local submission fee (admin fee): $50.00
Regional submission fee: $325.00*

*Plus any other fees designated by the region.

---
Helpful Documents
Benefits of Winning TOBY
BOMA 360 vs. TOBY Comparison
Forms and Judging Sheets
Need help? Please let us know your questions admin@bomaaustin.org